Cityscape 9
©2018 • 13.5"L x 10"W • $175
Artist-dyed cotton fabric
Machine pieced; machine quilted
Rhythm and Blues
©2016 • 16"L x 10.5"W • $235
Artist-dyed cotton fabric
Machine pieced; machine quilted
Cityscape 7
©2016 • 17"L x 12.25"W • $290
Artist-dyed cotton fabric
Machine appliqué; machine quilted
Cityscape 6
©2016 • 18.5"L x 8.75"W • $225
Artist-dyed cotton fabric
Machine pieced; machine quilted
What Lies Within 1
©2015 • 18.5"L x 11"W • $285
Artist-dyed cotton fabric
Machine pieced; machine quilted
What Lies Within 2
©2015 • 18.75"L x 10.25"W • $275
Artist-dyed cotton fabric
Machine pieced; machine quilted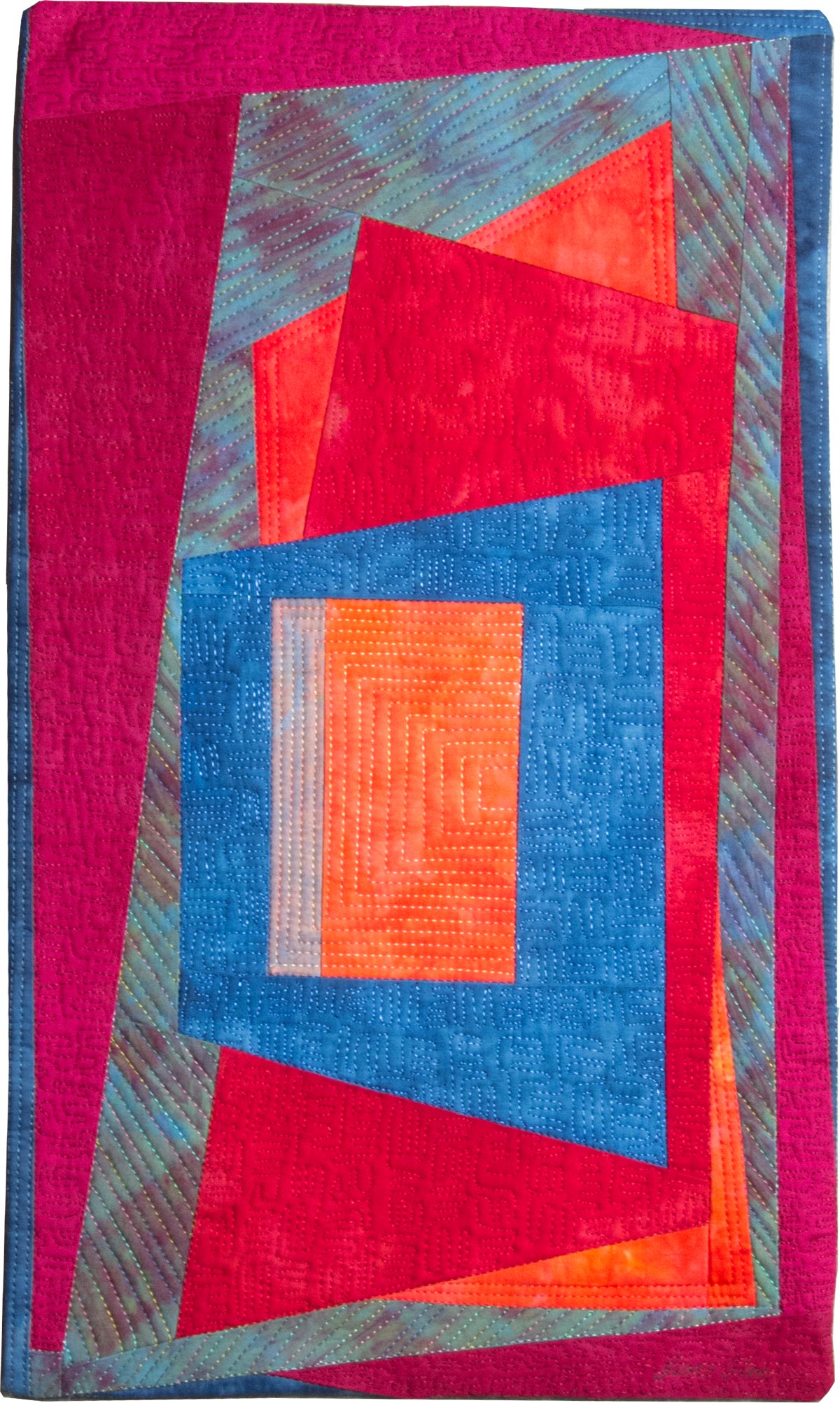 What Lies Within 3
©2015 • 18"L x 10.5"W • $275
Artist-dyed cotton fabric
Machine pieced; machine quilted
Spacescape 17
©2014 • 15"L x 8.5"W • $175
Artist-dyed and digitally printed cotton fabric
Gateway 2
©2013 • 14"L x 9.5"W • $175
Artist-dyed cotton fabric
Machine pieced and appliquéed and machine quilted
Vortex
©2013 • 12"L x 12"W • $200
Artist-dyed cotton fabric
Machine pieced and machine quilted
Circle Play
©2013 • 12"L x 12"W • $200
Artist-dyed cotton fabric
Fused collage; machine quilted
Relics
©2012 • 12"L x 12"W • $200
Artist-dyed cotton fabric
Machine appliquéd and machine quilted
Journey
©2012 • 14"L x 12"W • $225
Artist-dyed cotton fabric
Machine pieced and appliquéed and machine quilted
Gateway
©2012 • 10.5"L x 9"W • $125
Artist-dyed and digitally printed cotton fabrics
Machine pieced and appliquéed and machine quilted
Wind Dance
©2012 • 12.75"L x 8"W • $250
Artist-dyed cotton and silk fabric,
painted cheesecloth, gossamer, and Lutradur®
Collaged and machine quilted
Caryatid
©2012 • 15.5"L x 10"W • $175
Artist-dyed cotton fabric
Machine pieced and machine quilted
Passageway
©2011 • 14.5"L x 11"W • $225
Available for purchase in the TAFA Shop
Artist-dyed and screen-printed cotton fabric
Machine pieced and machine quilted
Green Door
©2011 • 13"L x 11"W • $200
Artist-dyed cotton fabric
Machine pieced and machine quilted
Fairy Dance
©2011 • 14"L x 10"W • $175
Hand-marbled and commercial cotton fabric
Machine pieced and machine quilted
Buoyancy 2
©2007 • 10"L x 10"W on 12 x 12" linen-covered stretched canvas • $150
Artist-dyed cotton, silk, and velvet and commercial cotton fabric
Fabric collage with machine stitching
Small Work
The works in this gallery are 12 inches wide or less, suitable for a small space in your home or office.
Click on a thumbnail to see a larger picture, then select the information icon (the black dot with the letter "i") to get a description. Use the arrows to navigate between items. Return to the page of thumbnails by selecting the grid icon in the corner.
Please use the contact page if you are interested in acquiring artwork.